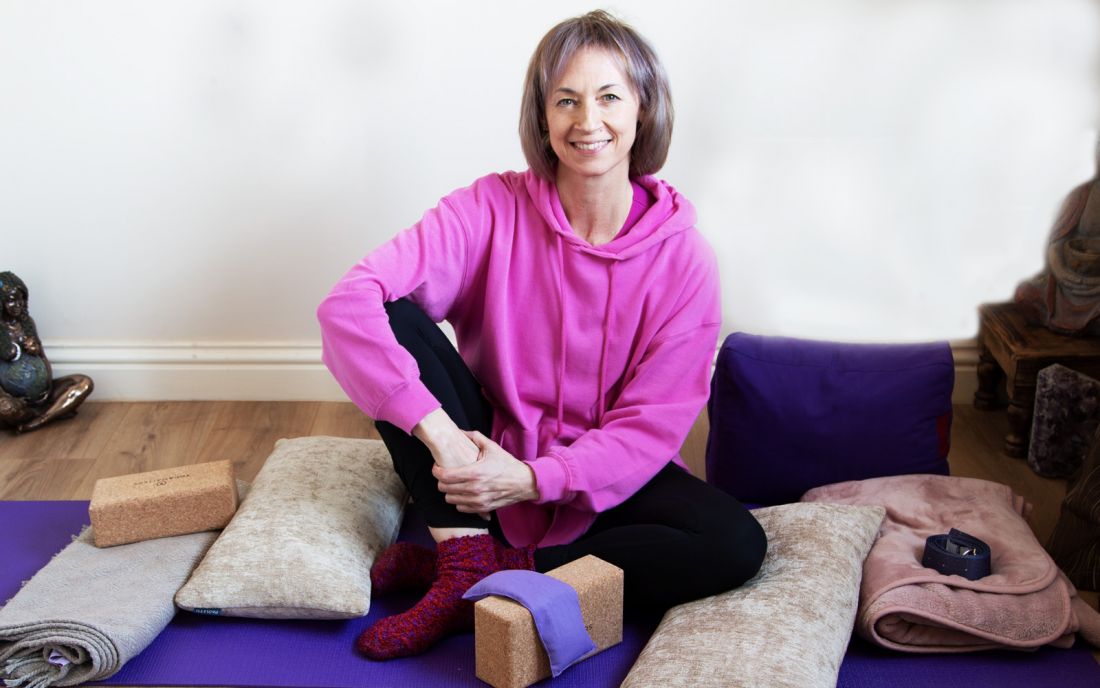 Restorative Yoga Props
Restorative poses are poses of being rather than doing – the natural curves of your body is held using props so there's no effort on your part to rest.
I can't emphasise enough that you'll never bring too many props (better to stay in your bag than you not having enough) or how important it is for you to be comfortable. Check key areas for tension: lower back, abdomen, neck and jaw muscles. If you're uncomfortable, gently and slowly come out of the pose, rearrange your props then settle back into it. With a regular Restorative Yoga practice you'll get to know exactly which prop needs placing where; what needs stacking on top of what and how to be comfortable without needing to constantly re-arrange your props. Your attention to detail of props being perfectly placed for YOUR body will be well worth the effort.
Below is a list of items that I'd recommend you bring to your Restorative Yoga class. You don't need to go out and buy branded yoga equipment; regular household items will do.
Blankets
One of the most versatile and important props. We can spread them, roll them, use them for padding, cover ourselves if we're cool. We can fold them several times taking the place of blocks if blocks aren't part of our arsenal.
I recommend bring several blankets. 🙂
Cushions
You can use cushions to create a ramp to lie upon and pop either blocks underneath to increase the height at one end, a folded blanket, or you can use your yoga bolster if you have one.
Towels
Rolled up/folded towels can be used under your ankles or your lower back if you don't have many blankets.
---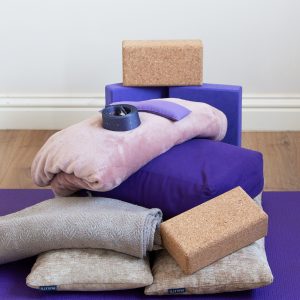 This is generally what I use in my Restorative Yoga practice. Cushions from Homesense; they have some weird and wonderful sizes that are perfect! A few blankets, blocks (you could use books) and a yoga bolster which could just as easily be some folded up blankets or a rolled up sleeping bag. 🙂
---
Straps
Occasionally we'll use a strap in our Restorative Yoga practice, there's no need to purchase one of these – I always have enough to provide everyone with a strap that's coming to one of our Restorative Yoga/Gong Bath events.
Eye Blanket/Eye Mask
Iyengar maintains that if your head and face are relaxed, the body follows. Covering your eyes adds considerably to the depth of the relaxation. Therefore I'd recommend either purchasing an eye blanket/eye mask or why not make your own? Simply fill a sock with rice, making sure the rice freely moves inside the sock so it comfortably moulds to your eye sockets – then secure at one end. You can also add a few drops of essential oil to your eye blanket/sock – lavender being a favourite, again to add to the depth of relaxation (unless you don't like lavender and are allergic, if that's the case why not give Clary Sage try?).
Clothing
Wear loose warm clothing that you can move easily in, and don't forget your fluffy socks!
Please remember, you can never bring too many props. 🙂